Saturday, November 1, 2014 from 9:00 AM to 1:30 PM (IST)
Gurgaon, HR
Hi friends!
Delhi User Group presents Tech-Meet, your chance to learn Hot technologies from Industry experts.

The half-day free event for professionals in Delhi NCR includes a great line-up of industry-recognized speakers.
I am giving an 45 minutes of Session on "

PowerShell and Automation

".
Come and join me and let's talk about PowerShell.
Register here :
http://www.eventbrite.com/e/tech-meet-by-delhi-user-group-01-nov-2014-gurgaon-tickets-13902090527
Refer the attached Image for complete Agenda: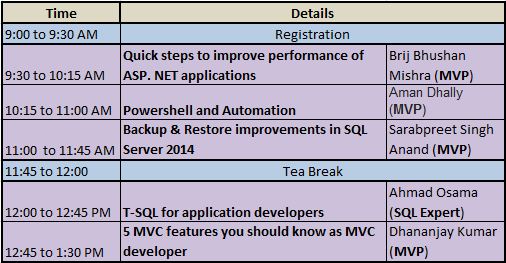 Register here
:
http://www.eventbrite.com/e/tech-meet-by-delhi-user-group-01-nov-2014-gurgaon-tickets-13902090527
Thanks.



 

A

ma

n

 

D

hally